Dendrinos Family
In 1972, George Dendrinos decided to open a small taverna in Fiscardo, mostly driven by his love of being with people. His was the first taverna in the tiny village which at the time, was inhabited only by a few fishermen. He named it Friends. Word spread about the hospitality of George and his wife Athanasia, with the result that Friends became a meeting place for those sailing the Ionian Sea and those who visited the area seeking a few days of tranquility.
After 10 years, George and Athanasia's daughter, Tassia and her husband Panos, took charge of the restaurant and renamed it Tassia's Restaurant. A few years later, Tassia's brothers Polychronis and Panos joined the business, which rapidly became one of the best known restaurants in Greece. In 2005, three generations of the Dendrinos family became restaurateurs when Tassia's daughter Athanasia joined the staff.
In addition to Tassia's Restaurant, Polychronis owns and runs the Almyra Hotel, Fiscardo's first boutique hotel situated a few minutes from Fiscardo.
Panos is also a property developer who established the company Dendrinos Exclusive Properties aiming to finding beautiful pieces of land in the northern part of Kefalonia with sea views and privacy on which to build houses for sale or rental.
Five of his finest villas are set aside for exclusive rental to visitors via his collaboration with Prime Villas and Suites from Unique.
In 1998 he brought to Fiscardo the Dodoni Ice Cream Parlour franchise and in 2006 restored one of the oldest and most beautiful buildings in Fiscardo into the Gaèta Art Café-Bar. Both businesses are located on the Fiscardo bay front.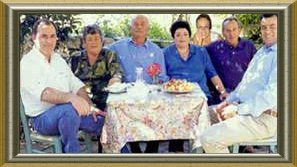 The Dendrinos family From the left Panos, his mother Athanasia, his father George, Tassia, her daughter Athanasia, her husband Panos Katopodis and Polychronis Dendrinos